The Government of Oman is developing the coastal area of Duqm into a fully integrated export center, complete with supporting urban facilities for balanced national developments. To achieve this, a Master Plan for the proposed city has commenced on its implementation. An initial component of the overall plan is the development of Duqm Frontier Town. Duqm Frontier Town has been identified as a residential community to be supported by appropriate facilities to serve the local population. Duqm Frontier Town is located in wilayat A'Duqm on the eastern coastline of Oman, some 550 kilometer by road south of Muscat and a similar distance by road north of Salalah. The size of land is about 52 hectares and it will be developed in phases.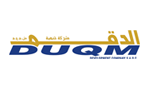 Our Partner: Duqm Development Company SAOC
Duqm Development Company SAOC (DDC) forms an integral part of the Oman Government's vision for the development of Duqm Special Economic Zone in order to balance its economic development across the Sultanate.
Presently, it is a joint venture between Omran and Oman Dry Dock Company SAOC (ODC) and its focus is on developing the Duqm region, both residentially and commercially.