Ministry of Heritage and Culture & Omran sign an agreement to boost cultural tourism at Nizwa Fort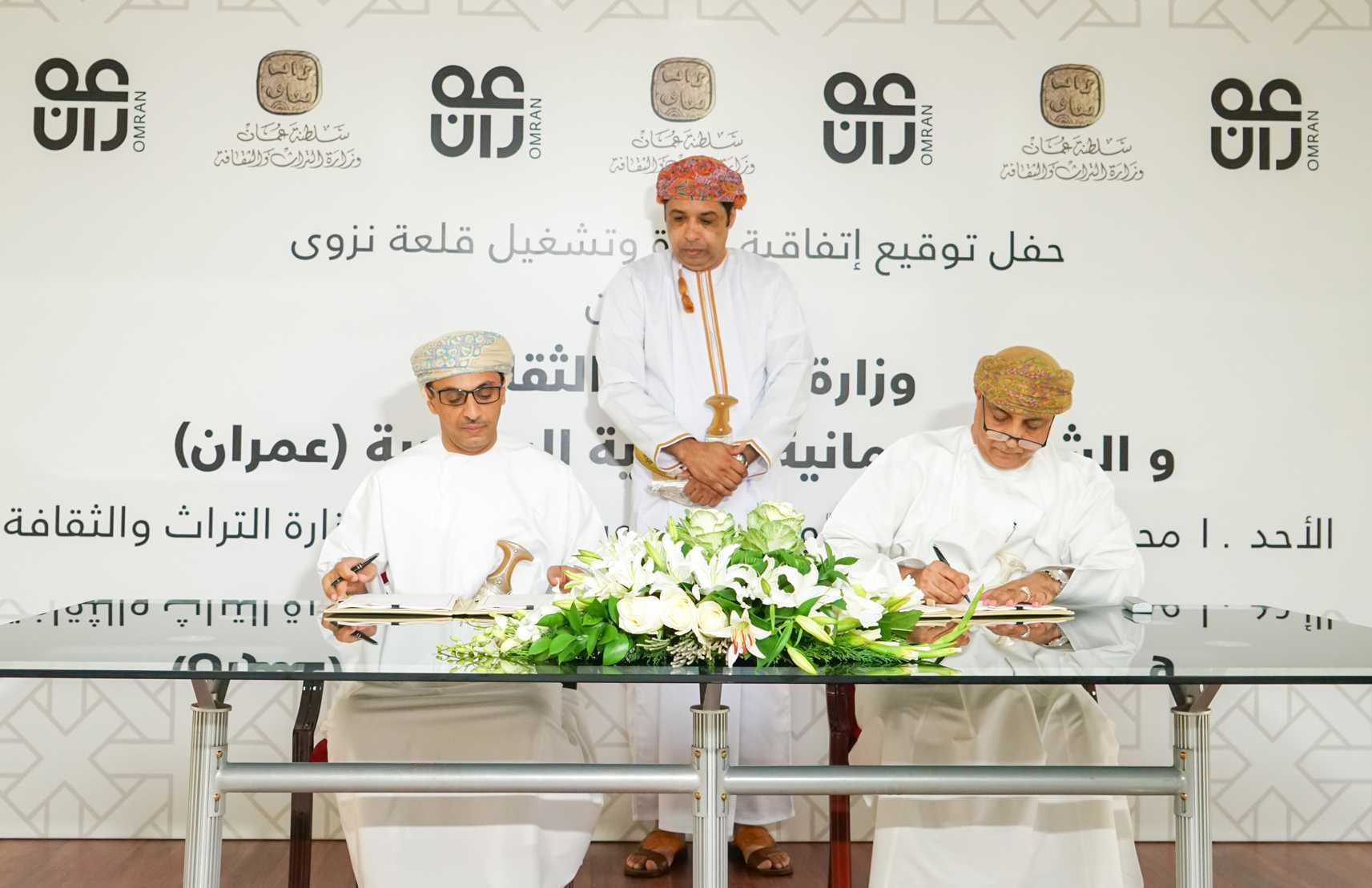 The Ministry of Heritage and Culture (MOHC) today signed an agreement with Oman Tourism Development Company (Omran), to manage historical treasure Nizwa Fort. This agreement marks the first historical site that will be managed by Omran, as part of its aims to enhance sustainable cultural tourism destinations that respect and promote Oman's rich cultural and authentic heritage.
The agreement was signed by H.E. Hassan Al Lawati, advisor to the Minister of Heritage and Culture for Heritage Affairs and H.E. Mohammed Al Mahruqi, Omran Board Member at The Ministry of Heritage and Culture, in the presence of senior government officials from Ministry of Tourism and Ministry of Finance. The agreement  marks the beginning of a new chapter of many historical sites that will be managed by Omran in collaboration with the private sector.
Nizwa Fort is Oman's most visited national heritage monument, and under this new agreement, visitors will be able to enjoy a world-class heritage destination that celebrates the history of Oman and local culture combined with enhanced facilities and services.
On this occasion, His Excellency, Hassan Al Lawati, advisor to the Minister of Heritage and Culture for Heritage Affairs, said, "This agreement will enhance the Sultanate's tourism industry, stimulating it to become a key player and contributor to the nation's economy. Building on Nizwa Fort's appeal as an historical place of interest, Omran's support with the management, marketing and maintenance will create a new visitor experience that will celebrate local culture and heritage at the highest standards and quality."
His Excellency, Mohammed Al Mahruqi, Omran Board Member stated, " With the Sultanate's aims of diversifying the economy, Omran plays a strategic role in creating new destinations and experiences that will benefit the social and economic growth of the Sultanate. This collaboration marks a new era for one of Oman's treasured sites, and demonstrates the Sultanate's commitment to finding innovative ways to promote Oman's unique tourism offering.
He added, "The management and rejuvenation of historical sites such as Nizwa Fort will create a unique experience in the region."
Peter Walichnowski, CEO of Omran, said, "Today's announcement paves the way for the successful investments and the utilisation of Oman's historical assets to help increase cultural tourism in the Sultanate. At Omran, our aim is to preserve nature, culture, and communities while delivering economic benefits to the country."
He added, "Job creation is inherent across all of our projects and we remain committed to engaging the private sector and Omani SMEs, therefore, Omran intends to outsource the day to day running of the fort to a local SME to provide enhanced facilities and experiences, in support of its intrinsic values of engaging Omani SMEs and encouraging them to play a key role in developing the Sultanate's flourishing tourism sector."
Nizwa Fort is located in the A'Dakhliya governorate, overlooking the Hajar Mountains and in close proximity to the Nizwa Souq which is famed for selling traditional Omani handicrafts. It was originally built by by Imam Sultan Bin Saif Al Y'aribi in the 17th Century, making it one of the oldest traditional forts in Oman.