Omran and Oman Motorhomes establish partnership to deliver Oman's first recreation vehicles campground developments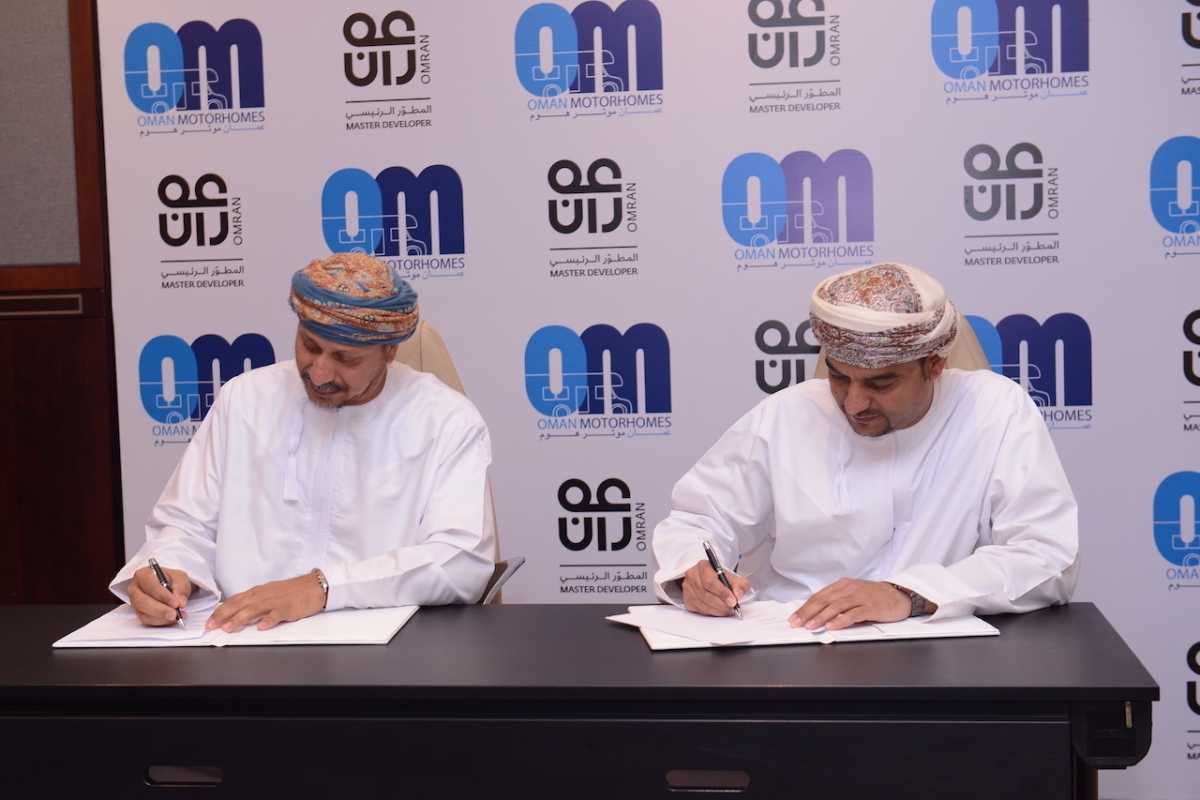 A strategic collaboration between Omran and Oman Motorhomes has been established to set up the firstcampgrounds for Recreation Vehicles (RV) in various key tourist areas in the Sultanate of Oman. This collaborationis part of a greater intent to focus on a common objective of serving the tourism in Oman and introducing creative ideas to promote this sector.
The agreement will provide another dimension to Oman's developing tourism industry, and enable visitors to experience the Sultanate's attractions in a new way. The agreement will see the first campgrounds established at Al Ashkhara and Salalah. With Oman's national Tourism Strategy 2040 aiming to make tourism account for six per cent of the Sultanate's GDP, additional offerings for local, regional and international visitors will support reaching this target.
Eng. Khalid Mirza, Director of Projects Development, Omransaid: "We look forward to working with Oman Motorhomes on setting up the first campgrounds across the Sultanate. It's the right time to furnish the tourism sector with new creative ideas such as the entrepreunership concept offered by Oman Motorhomes which will help in boosting tourism and offer new activity for the internal and external tourists in Oman. This will create jobs for Omanis and support Omani SMEs at the local communities around the campgrounds."
He added: "With Omran's aim to continue implementing its Local Development Investment (LDI) strategy, which looks beyond the short-term goal of immediate returns, this kind of collaboration bolsters the investment in the strategic vision of Omran and therefore Oman. We want to ensure a stronger local supply chain, working with local skills and talent and consequently improving the quality of our end product and this is a great example of doing that."
Oman Motorhomes is the authorised dealer in Oman for the world's largest manufacturers of Recreational Vehicles (RVs) including Thor Motorcoach and Forestriver which guarantee the highest standard. Oman Motorhomes offers its customers the opportunities to rent or own RVs from the diverse product lineswhich includeMotorized, Trailers, Specialty, and Park model RVs of different sizes and floor plans.
"Oman Motorhomes strives to create a positive touristic experience while exploring the beauty of Oman in a convenient and affordable way for all customers. After a day of sightseeing, families can return to their RVs, cook their favorite meals at leisure and relax in a comfortable and familiar atmosphere," said Eng.Nasser Al Saadi, Owner and Managing Director of Oman Motorhomes.
"Oman Motorhomes will also seek community participation in operating the campgrounds which will bring substantial economic benefits to local communities and residents and creates community awareness, understanding and support for tourism development." Al Saadi added.
A campground consists typically of a place where a camper can park a recreational vehicle (RV) and it may have playgrounds, recreation centers, walking paths, camp stores and most importantly electric power, water supply, waste management/disposal, and convenient stores. The RVs carry luxurious amenities, Kitchen, bedrooms, living areas, and bathrooms inside them. They are sufficient as a standalone for few days in one place; however, it would always be better and secure to park in the campground where the RVerwill have minimum facilities such as hookups for electric power, water supply and waste disposal in addition to other added services.
With tourists strongly interested in activities such as boat trips, hiking and camping in locations such as Sur, Al Jabal Al Akhdar and Masira Island, the option of taking an RV to base themselves close to the best of these activities is a dynamic addition to Oman's tourism offering.
Oman Motorhomesstrives to provide RV consumers with superior products and services and innovative solutionsstarting with the campgrounds which will enhance the enjoyment of the RV lifestyle within the scenic and natural beauty of Oman.