Omran launches $390m Phase One of Mina Al Sultan Qaboos Waterfront in Muscat, Oman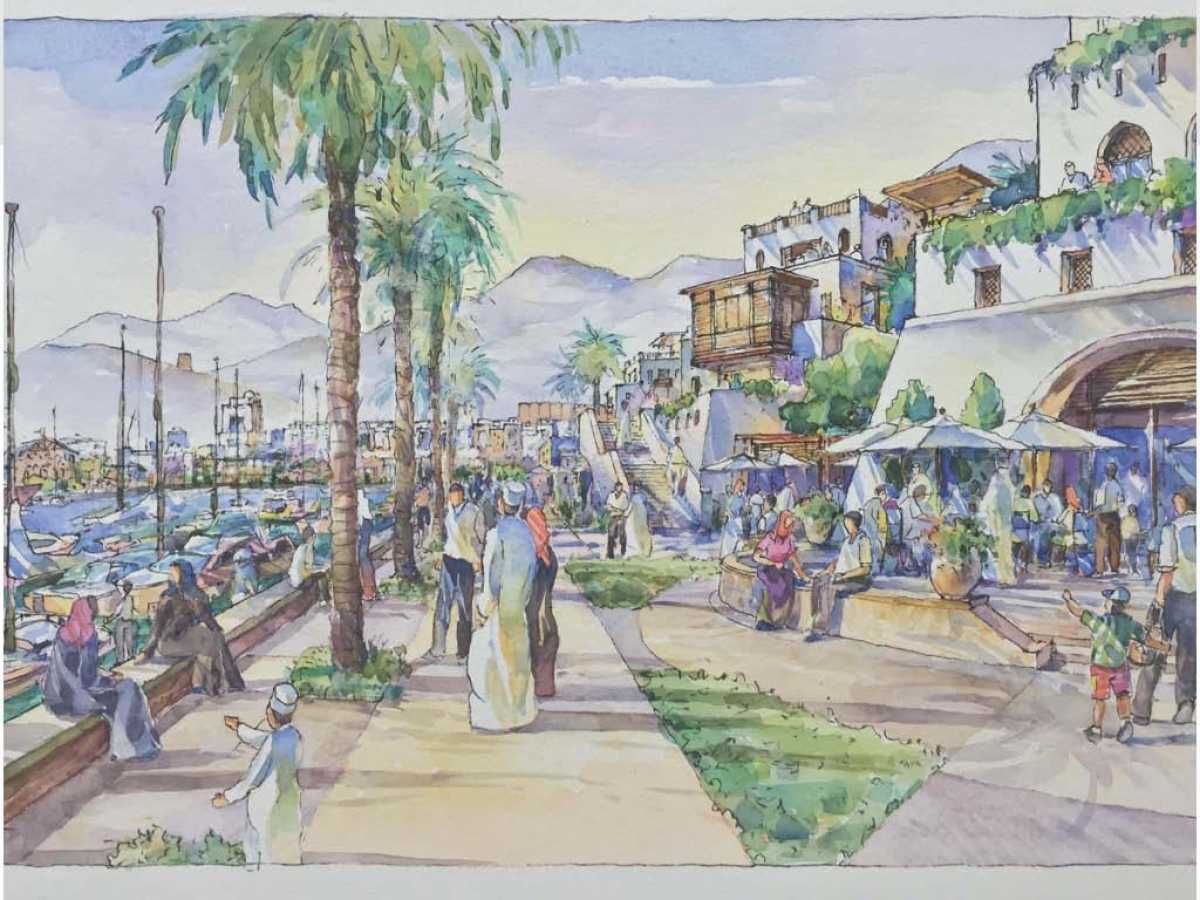 The Oman Tourism Development Company (Omran) is pleased to announce that it has launched the phase one identity details of the Mina Al Sultan Qaboos Waterfront Project at an official ceremony at the Mina Al Sultan Qaboos Waterfront in Muscat.
Phase one of the integrated mixed use Waterfront destination is projected to be completed by 2020, and will transform the current commercial Port Sultan Qaboos area into a major tourism-based development, spanning a 64-hectare area. The Mina Al Sultan Qaboos Waterfront will include business and residential zones, destination mall, six hotels (including three, four and five star), recreation amenities, tourist attractions, as well as docking facilities for cruise liners and yachts.
The development will take place over four separate phases. The master development plan was conceptualised in 2015, with significant inputs received from private sector investors, who are keen to capitalize on the tourism and hospitality opportunities presented by the grand Waterfront scheme.
H.E. Dr. Ali bin Masoud Al Sunaidy, Minister of Commerce and Industry and Chairman of Oman Tourism Development Company (Omran), said:
"Our Vision for the Mina Al Sultan Qaboos Waterfront is to create a world-class waterfront development of outstanding beauty and interest that celebrates the maritime history of Muscat and showcases the very best of Omani culture, heritage and innovation to a global audience. Upon completion it will provide an extraordinary year round tourism hub that is rich in activities, entertainment and experiences, and is accessible to all.
"It will also provide a pedestrian friendly lifestyle community that provides the people of Muscat a true "downtown hub" and that serves as a catalyst for the broader regeneration of Muttrah, and serve as an important platform for successful business enterprise and a stimulus for significant job creation."
H.E. Ahmed bin Nasser Al Mahrizi, Minister of Tourism and Omran Board Member stated:
"The Mina Al Sultan Qaboos Waterfront represents arguably the most exciting and high potential real estate project currently underway in the Sultanate of Oman. In this spectacular and historic setting, we are confident that it will soon establish itself as a premier destination in Oman, and one of the most high profile and celebrated tourism infrastructure projects across the GCC. Not only will it enrich the lives of the local community, but it will play a pivotal role in the growth of the national tourism industry over the next 20 years and beyond."
H.E. Dr. Ahmed bin Mohammed Al Futaisi, Minister of Transport & Communications and Omran Board Member said:
"This is a very exciting day for Muscat and for the expansion of Oman's tourism infrastructure as an integral part of Oman Vision 2020. Today's launch is all about explaining how phase one will set in place the regeneration of the historic former port area of this great city into a true tourism gateway for the country, providing sustainable economic development and job opportunities for many generations to come.
James Wilson, CEO of Omran commented:
"Constructing this project is a challenging proposition but the success of that endeavor rests on how the project is established from the outset. Much of the architectural design will be concerned with providing low energy sustainable solutions that draw inspiration from the rich architectural and cultural traditions of the Sultanate of Oman. The development will absolutely respect and compliment Oman's rich historical context.
"Scheduled for completion in 2020, the Mina Al Sultan Qaboos Waterfront will integrate with and enhance the historical area of Muttrah, and combine traditional Omani aesthetics with modern technology, focusing on sustainability and harmony with the environment. Muttrah was for centuries the centre of commerce in Muscat and one of the largest sea ports in the region, with its location serving as an ideal hub for the Gulf region, African and the Indian sub-continent.
"With its proud maritime heritage combined with innovative initiatives including, Fisherman's Wharf, Waterpark and terminal to enable direct travel to Iran, I have no doubt that the development will quickly become one of the top waterfront and tourism destinations in the region, as well as a centre for excellence in areas such as education, the arts, culture and sport."
The Souq Al Mina will be a core public aspect of the development which will become home for over 80 local SMEs, shops, restaurants and cafes. Omani entrepreneurs will cover a number of verticals such as catering, retail, fashion, accessories, entertainment, decorative arts, crafts, textiles, design, furniture, jewellery, gifts, organic products – to offer unique products and services for locals, residents and tourists. The Souq Al Mina area is scheduled for completion in the second quarter of 2017 and will be situated alongside a still functioning harbour for cruise ships and yachts, which will celebrate Oman's rich cultural heritage with contemporary aesthetics. Over 150 cruise ships are set to dock in Muscat in the next cruise ship season, as they come to experience a true jewel of Arabia.
At the ceremony, a number of strategic commercial agreements were signed including Blizzard Brothers who have been appointed to manage the first construction activity of Souq Al Mina. Omran also announced it has appointed Omani company HD23, a joint venture with Nadia Al Lawati, Architect and Owner of 23 Degrees North, and Harper Downie, as lead consultants and master planners. The 50/50 joint venture will ensure that 100% of the project design is completed in Oman, led by Omani architect Nadia Al Lawati. HD23 will embrace and mentor young Omani architects and recruit them based on Omran's "Design League" initiative, which was formed to become the leading independent forum for architecture, design and urban planning in the Sultanate.
It was also announced that firms Foster and Partners and Hoehler and Al Salmy have been appointed as architectural consultants to the development. Foster and Partners is an international studio for architecture, planning, engineering and design. Established in 1967 by the prominent British architect Norman Foster, the company employs over 1,500 staff across six architectural design studios and supporting teams and has designed complex projects around the world including Wembley stadium, Apple New Campus, DIFC Dubai, WTC, Masdar City, and Al Raha Beach in Abu Dhabi. From its formation 45 years ago, Hoehler and Al Salmy has strived to produce the most innovative and forward thinking architecture. From its early routes in Germany and then its partnership in Muscat with Muhammad Al Salmy, the firm combines the highest German standards in both aesthetics and technicalities, with the rich culture of Oman's architectural heritage.
Foreign direct investment (FDI) is a key aspect to the development and detailed discussions have been taking place with potential investors in the Waterfront Company which incorporated this year by Omran.
Omran is also happy to announce that an agreement has been reached with the first investor for the Mina Al Sultan Qaboos Waterfront project. The investor will be developing a four star hotel in proximity to the Muttrah fish market.
During the ceremony, Omran also signed and MoU with Omantel for the delivery of smart city solutions for the project.
In addition, in furtherance of their mutual interest in the field of further education, training, research and consultancy and as a contribution to increased institutional cooperation, Omran is also pleased to announce that a Letter of Understanding has been signed between Omran and the Sultan Qaboos University, Oman (SQU), to work together in order to produce graduates that can serve Oman's economic development.